The goal of the Embassy is to promote and strengthen good relations between South Africa and Argentina as well as with the neighbouring countries of Paraguay and Uruguay where we are represented on a non-residential basis. The Embassy is assisted in its latter task by South African Honorary Consuls in both Asunción and Montevideo.
We hope that you will be able to find links to information which you require concerning migration and civic services, consular services, business and tourism links, news about South Africa and many more.
The South African Embassy is committed to promoting the spirit of Ubuntu and the "Batho Pele" (People First) principles, in the provision of its services. These are reflective of the values that the democratic South Africa upholds, as we seek to create a better South Africa for all who live in it.
South Africa is also open for business! As an emerging market economy, we boast world-class infrastructure, a highly developed and sophisticated banking system, an independent judiciary, the largest ports on the African continent and, our greatest asset – our highly resourceful people – who are ready to get to work and get the job done.
We remain a premier destination for tourism, characterised by youthfulness, beautiful wildlife, pristine beaches and breath-taking scenery. In addition, vibrant cultural and heritage offerings, unique cuisine, exciting adventure, an amazing climate and, a people collectively invested in providing you with your best experience can be guaranteed.
Should you need more information, please reach out to me and my team through our provided contact details, which you will find on this website.
Zanele Makina
Ambassador, Argentina
TOP NEWS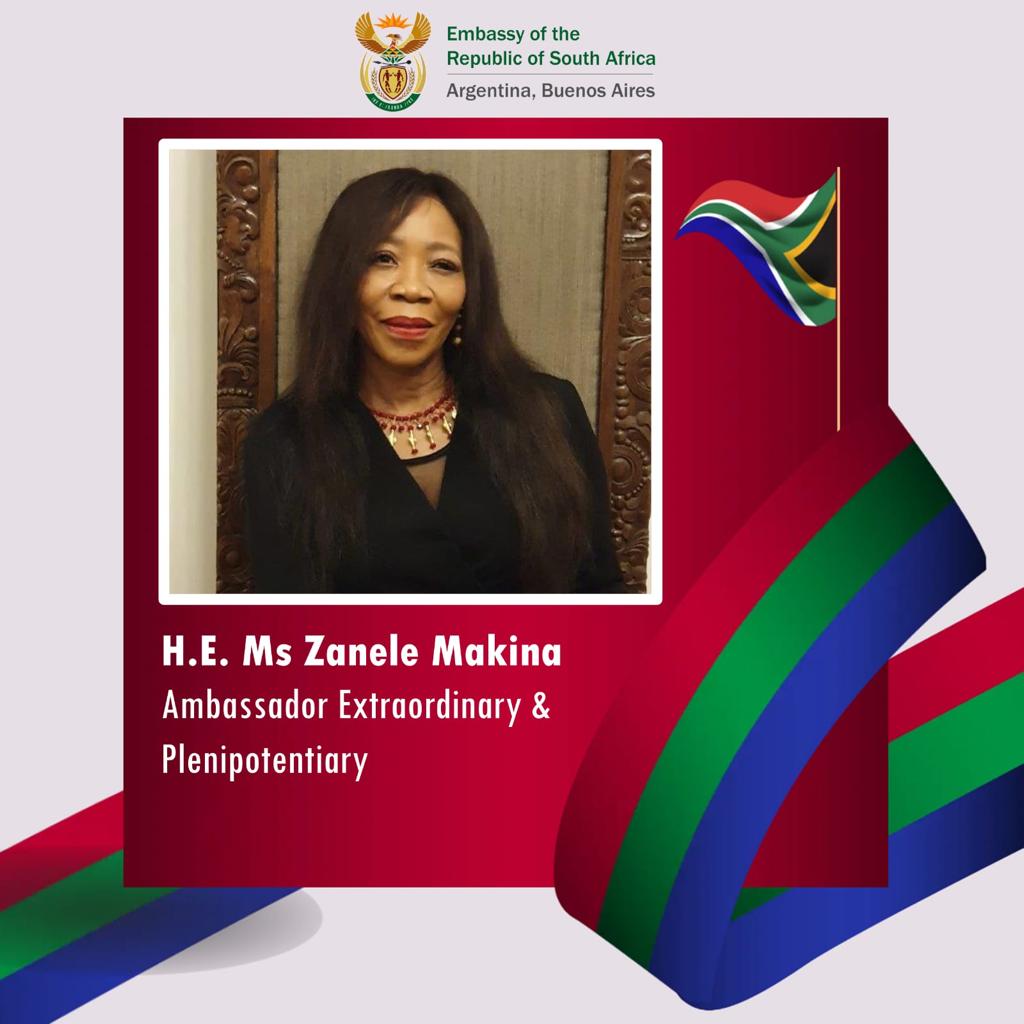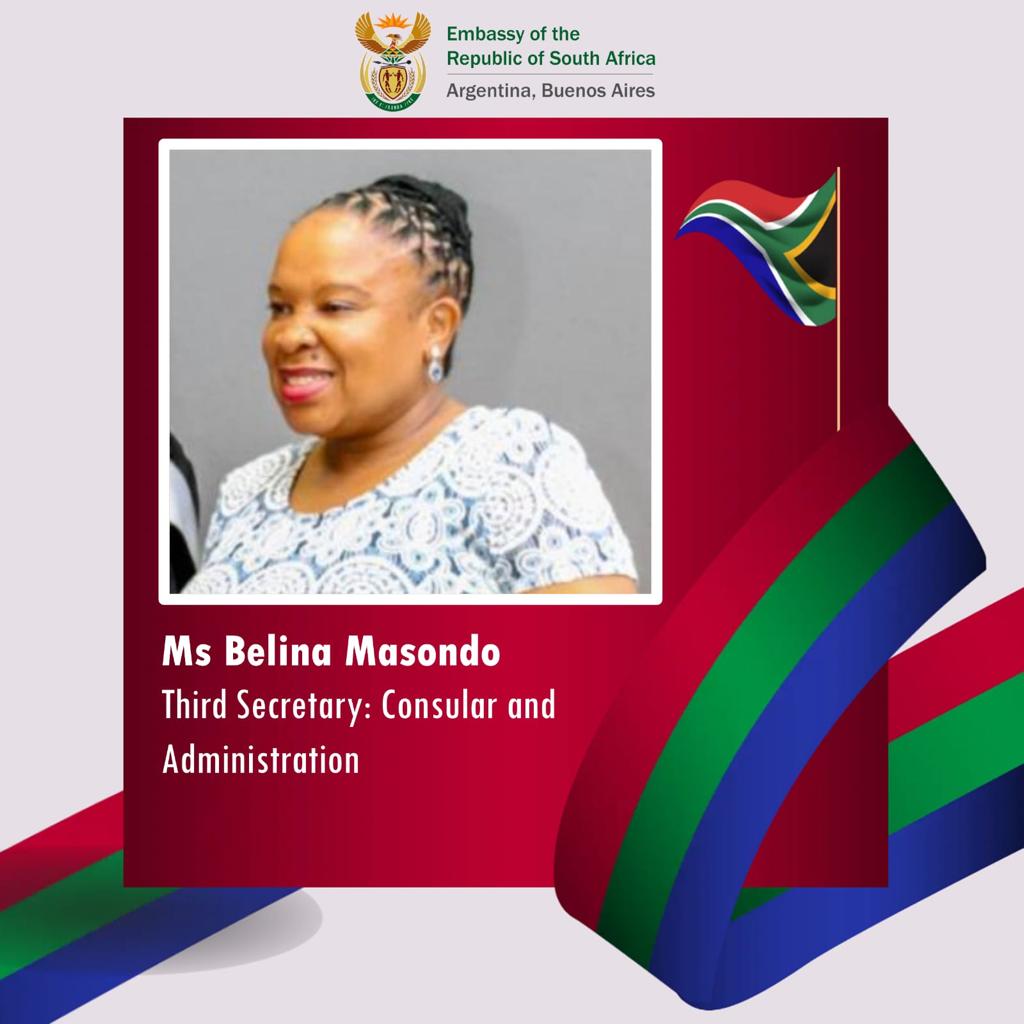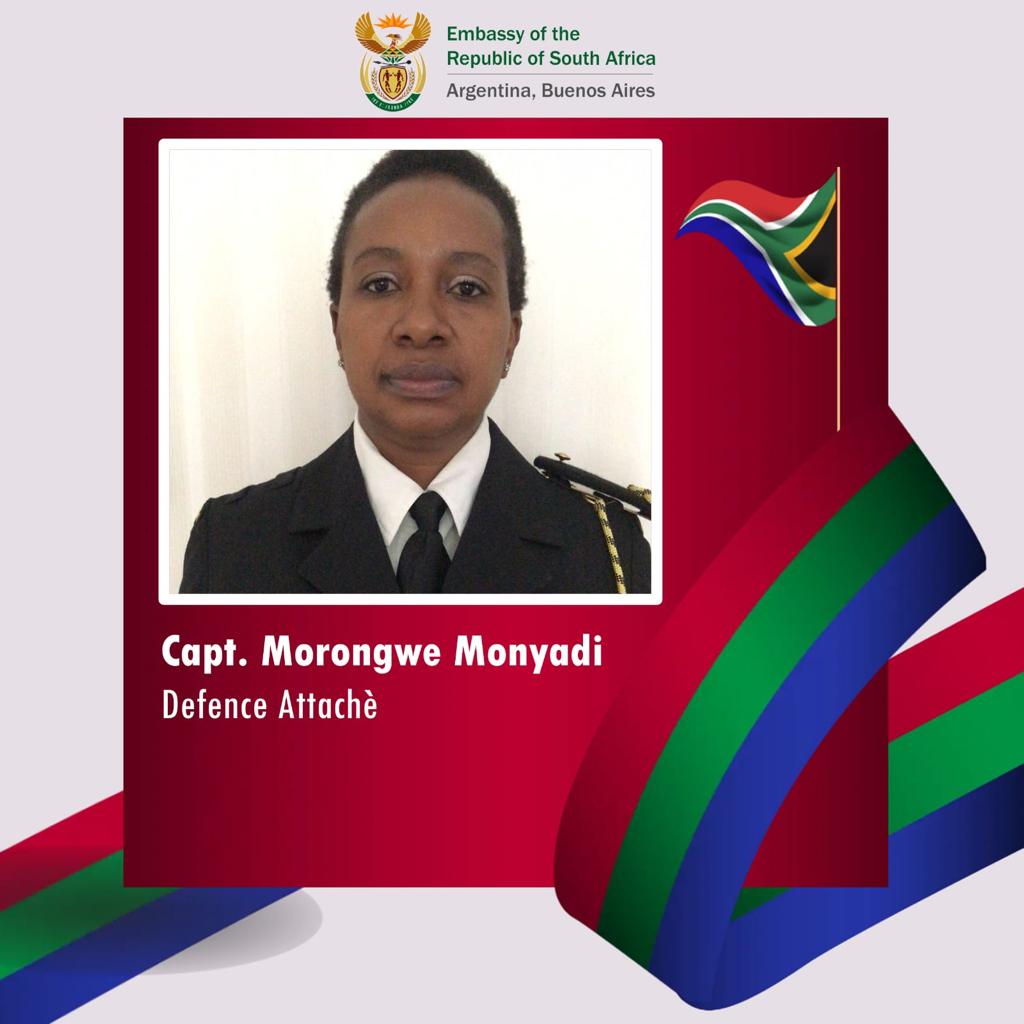 vacant land owned by the South African Government in Uruguay, Montevideo
DEPARTMENT OF INTERNATIONAL RELATIONS AND COOPERATION
BUSINESS VIRTUAL ROUND BETWEEN ARGENTINA - South Africa
South Africa Argentina Agricultural Machinery and Services
Ambassador Zanele Makina participated in a breakfast
In celebration of International women's Day Ambassador Zanele Makina participated in a breakfast round table with women Ambassadors and the first vice President Deputy Emmanuel Ferrario of the Legislature of the city of Buenos Aires.
Martín Etchevers, Alberto Marina and Horacio Quirós.
Agriculture is the backbone of both the South African and Argentine economies, both countries have participated in expos held in Argentina being the Expoagro and the Nampo in South Africa. The visit is pertinent in strengthening relations and coming up with innovative solutions relating to climate change and food security.
which was held from 8-11 March in San Nicholas
she met with key industry players in Argentina including Bioceres, Protergium and also held a meeting with representatives from the province of Santa Fe.
South Africa Yearbook 2020/21
This publication is the official authoritative reference work on the Republic of South Africa and is updated annually
ON PROGRESS IN THE NATIONAL EFFORT TO CONTAIN THE COVID-19 PANDEMIC
DECEMBER, 14th - 2020
On 11 February 1990
Millions watched as Nelson Mandela took his first steps of freedom.
Frederik Willem de Klerk and Nelson Mandela at the World Economic Forum Annual Meeting Davos in 1992. (Image: World Economic Forum, via Flickr, CC BY-NC-SA 2.0)
Brand South Africa reporter
Nelson Mandela walked through the gates of Victor Verster Prison because he insisted on doing so.
Besides the late Nelson Mandela, many other South Africans have stood up for human rights. Among their names, we can count people like Desmond Tutu and Miriam Makeba. They have all devoted their time and talents to improving the lives of all people.
The rise of robots, and opportunities for women in science, technology, engineering and mathematics, were some of the topics that were discussed at the annual Leading Women Summit in Johannesburg
President Jacob Zuma attended the Summit of the Indian Ocean Rim Association Business Forum and Leaders' Summit to undertake a State Visit at the invitation of President Joko Widodo
The IORA Summit has been convened under the theme "Strengthening Maritime Cooperation for a Peaceful, Stable and Prosperous Indian Ocean" to commemorate 20 years of the Association's existence.  South Africa and Indonesia are both founding members of the IORA, which consists of twenty one coastal Member States bordering the Indian Ocean, stretching from South Africa in the west, running up the eastern coast of Africa, along the Gulf to South and Southeast Asia, ending with Australia in the east.